Erweitertes SSL
Aktvieren Sie die grüne Adressleiste im Browser mit Anzeige Ihres Firmennamens für höchstes Vertrauen.
Was ist ein erweitertes SSL-Zertifikat?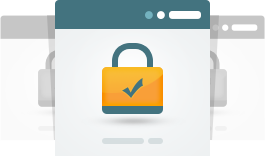 EV SSL ist ein erweitertes SSL Zertifikat, die höchste Stufe and verfügbaren SSL-Zertifikaten. Es verleiht die größte Glaubwürdigkeit und in der grünen Adressleiste des Browsers Ihrer Besucher wird Ihr Unternehmen oder der Ihrer Organisation angezeigt. Somit kann sich der Besucher auf einen Blick versichern, dass er sich auf der richtigen Website befindet.
Dieser auffällige visuelle Sicherheits-Indikator lässt den Besucher wissen, dass zusätzliche Schritte zur Überprüfung der Identität des Unternehmens durchgeführt wurden. Ein EV SSL Zertifikat bietet die größte Glaubwürdigkeit. Dies ist auch der Grund, warum die meisten großen Unternehmen EV-Zertifikate wählen.
Contains Your EV Authenticated Organization Details
Certificate details indicate your website is using an Extended Validation SSL Certificate and include the issuing CA, validity status, and expiration date.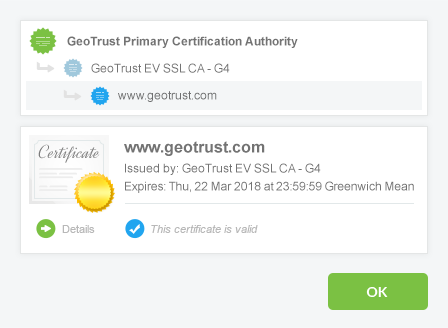 Green Address Bar
Activates the green address bar and displays your company or organization name for a prominent visual security indicator.
Trust Site Seal
Our SSL Certificates come with a trust seal that has been proven to increase visitor confidence and customer conversions.
$1.5m Warranty
EV Certificates come with a $1.5m warranty that covers data breaches caused due to a certificate flaw.
Certificate Features
Secure online transactions
99.9% Browser Compatability
Our SSL certificates are from some of the most trusted brands in Online Security.